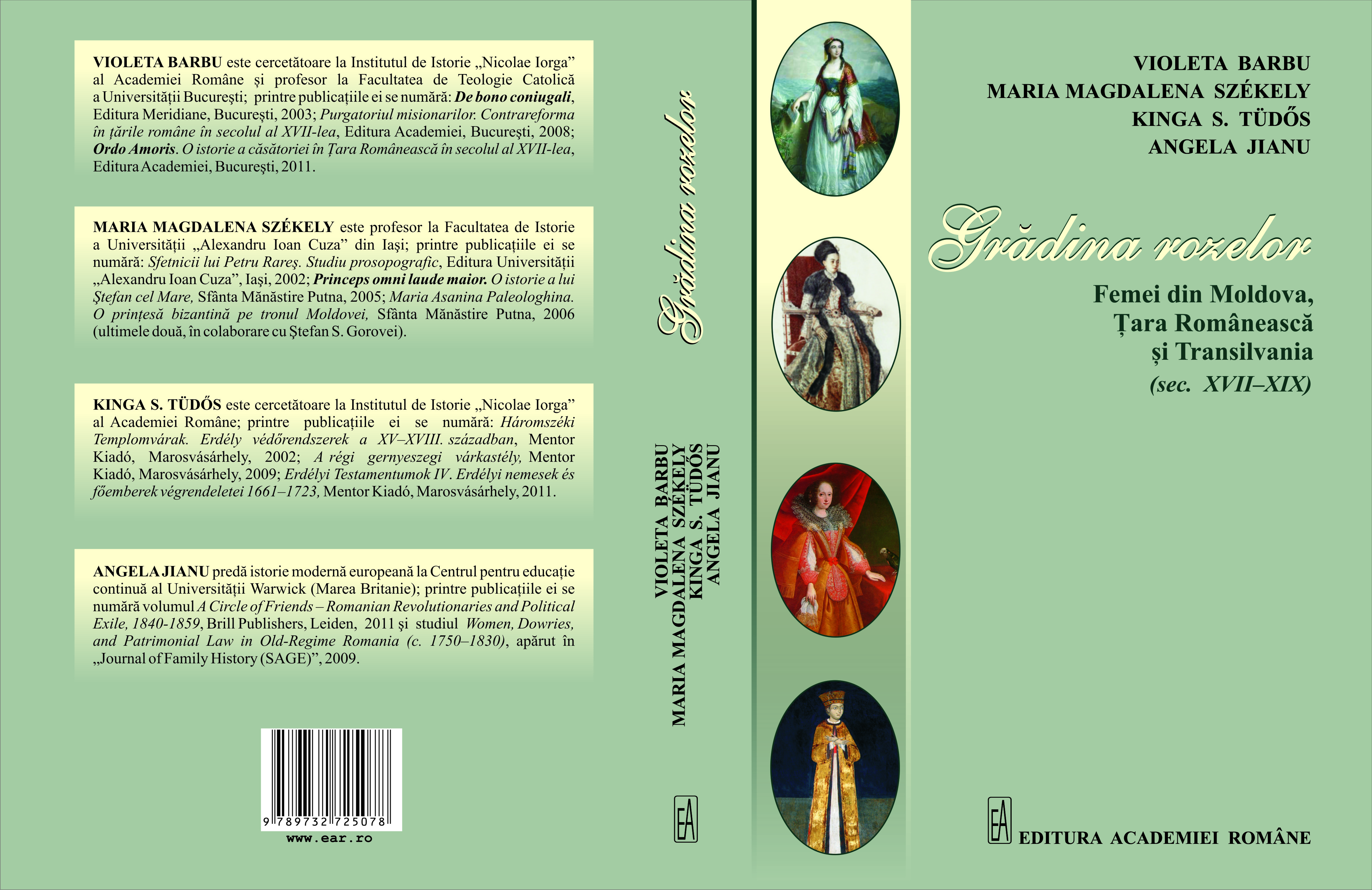 July 2015: Just out from the Romanian Academy
Barbu, Violeta; Székely, Maria Magdalena; Tüdös, Kinga; Jianu, Angela
Grădina rozelor. Femei din Moldova, Ţara Românească şi

Transilvania.(sec.XVII-XIX), (Bucharest, Editura Academiei

Române)
(A Garden of Roses - Women from the Romanian Principalities and Transylvania, 17th - 19th c)

ISBN 978-973-27-2507-8
The book can be purchased online at:
http://www.kubon-sagner.com/opac.html?record=9530595

Apart from capturing often fascinating biographical details about better- or lesser-known individual female figures, the life narratives included in this volume are also meant to be alternative pathways into the understanding of old-regime Romania via the roles played by women.
Using life narratives and collective portraits as formats, the authors arranged a 'bouquet' of women's biographies, showcased against the backdrop of socio-political and cultural developments in the two Romanian provinces and Transylvania. The 'bouquet' is a reference to the title of this volume,
A Garden

of Roses

, and comes from the writings of the visionary Saint Marguerite-Maria Alacoque (1647-1690) (Jó illatú Rózsás Kert, A Rose Garden Most Fragrant). It was translated into Hungarian by the Countess Sigray Erzsébet Róza andpublished in Bratislava in 1712 with the support of the Transylvanian Count Samuel Kalnoky and his daughter Hedvig. It is not so much the delicate beauty of the roses that lies behind the choice of title, but the metaphorical suggestions of the garden as a liminal area between the intimacy of the home and the openness of the public space.
Chapters by Angela Jianu :
Dora d'Istria: a gift made to Europe
Ermiona Asachi-Quinet and the 'republic of intelligences'
Maria Rosetti: love and exile