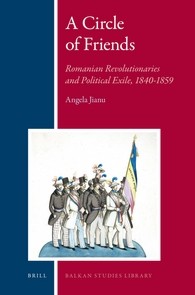 A Circle of Friends draws on private correspondence and diaries to explore the lives of a group of Romanian revolutionaries exiled in Paris, London and the Middle East in the aftermath of the insurrections of 1848. Largely unknown in the West so far, they formed part of informal networks of radical and republican groups which challenged the European old regimes throughout the latter half of the nineteenth century.
Maria Rosetti, born Marie Grant in Guernsey in 1819, played a key role in the events of 1848 in the Romanian Principalities. For portraits and further details on her genealogy, see the website of the Priaulx Library Guernsey.
Jianu's book restores Romanians to their correct place in the international democratic movement which radically changed the face of contemporary Europe, heralded the end of ancien regime societies and laid the basis for the spiritual and political renewal of the entire continent.
Review by Antonio d'Alessandri in the
European History Quarterly, 45:3,
July 2015
[...] Angela Jianu's book is a refreshing inquiry into the background of major historical events, illuminating their causes and hidden motivations.
Review by Doris Mironescu,
The Slavonic and East European Review, Vol. 91
, No. 2 (April 2013), pp. 363-365
A Circle of Friends: Romanian Revolutionaries and Political Exile, 1840-1859

Brill, Balkan Studies Library, 3, Hardback (xvi, 382 pp., 2011)

Click here to buy from the publishers

or from Amazon

'This volume extensively evaluates the correspondence, the memoirs, and the press of the time to highlight, often from a new perspective, [...] the unification of Moldavia with Wallachia, and the [...] international recognition of Romania. [...]

Jianu paints a graceful historical picture [...] Intended for an academic audience, this work would also be accessible to a public eager to learn more about the history of Romania'.

Review by Victor Neumann

Slavic Review, Vol. 71, No. 2 (Summer 2012), pp. 439-440